DIAMOND IN THE ROUGH
REBIRTH OF A 1958 PLYMOUTH FURY

Progress updated 7/25/00
After having seen the move "Christine" adapted from Stephen King's book, I had a vision of owning such a car. In its movie "costume" the 1958 Fury is a restoration come true. Although this car was offered in one body style and two colors, the character and spirit of it is unchallenged. I found such a car in the Hemmings Motor News in April 1993. The car came from northern California and was purchased sight unseen. Because of the climate, it was in better shape than restored cars I've seen in the northeast. With mechanical ability, the car was road worthy in two months. Over the next six years, the car sat in storage while I collected parts and information to bring it back to the open road once more. With the purchase of my own auto repair shop in 1998, the dream was turning to reality! In June 1999 with the help of some friends, complete dismantling was started. Everthing was tagged and bagged, with plenty of pictures along the way. Attending numerous car shows in Pennsylvania, led me to many new original parts for the car.

THE QUEST CONTINUES.......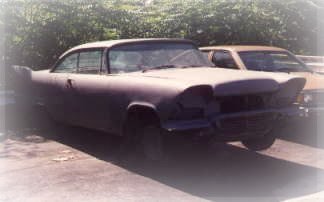 Want to see what I've done so far?
Click below.....
| | | |
| --- | --- | --- |
| If you share the love of cars, send me an e-mail.... | | Please sign my guestbook! Let me know you were here.... |
| | | |
This web site created and maintained by Diane Tonne